The Spanish scaleup ecosystem in 2018 still ranks 5th in Europe in terms of the number of scaleups (317 in total), and 6th in the capital raised (4 Billions of dollar in total). Though, investing 800 millions of dollar per year, it remains quite far from the top countries in terms of capital invested (Germany, France, and The Netherlands pour around 4 billions of dollar, and Switzerland over 2 billions of dollar). However the Spanish ecosystem is still the most performing among the Southern European countries.
These are the main highlights from the new report "Tech Scaleup Spain 2019" realized by Mind the Bridge with the support of ACCIONA, that has been presented this morning in Madrid during the last 2019 Scaleup Summit organized by Mind the Bridge and hosted by Bolsa de Madrid. According to the chairman of Mind the Bridge, Alberto Onetti, "on the bright side, the performance in terms of the number of new scaleups is promising: Spain added 61 new scaleups in 2018, a growth pace that is comparable to Switzerland, The Netherlands, and Sweden and we expect the numbers to grow in 2019 by a further 25-30%. Then the Spanish startup ecosystem is vital. But it needs to be supported with more capital."
Spain definitely outperforms its peers of Southern Europe, effectively being a runner up to the top countries in Europe: Italy in fact ranks 10th, with 208 scaleups and 1.8 billions of dollar capital raised (less than half than Spain), Portugal is 16th (75 scaleups, 0.6 billions capital), while Greece ranks 18th (48 companies, 0.4 billions raised). In terms of growth year per year,  Spain is comparable to Switzerland (+84 new scaleups), The Netherlands (+66), and Sweden (+53), it's significantly better than Finland (+37), Italy (+30), and Ireland (+9), while is still very far from the UK (+549), France (+178) and Germany (+119).
SPAIN HOSTS 4,5% OF THE AVERAGE NUMBER OF EUROPEAN SCALEUPS 
In a wider perspective, Spain hosts 4.5% of the total number of European scaleups, which attracted approximately 3% of the overall capital injected into the European tech scaleup ecosystem. This is quite a half of the entire Southern Europe area,  once again dragging its feet in the innovation wave with 10% of scaleups (691) and 6% of capital raised ($7.1B) regardless of their 20%+ share in Europe's GDP (4,877 billions of dollar vs. 22,752 ) and 22% of population (131 M vs 593 M). Central States, for example, contribute to 27% of scaleups and 30% of investments, Nordics with 16% and 19%, respectively (despite a relative small size), while British Isles outpaces the rest of Europe with 35% of scaleups and capital raised.
gráfico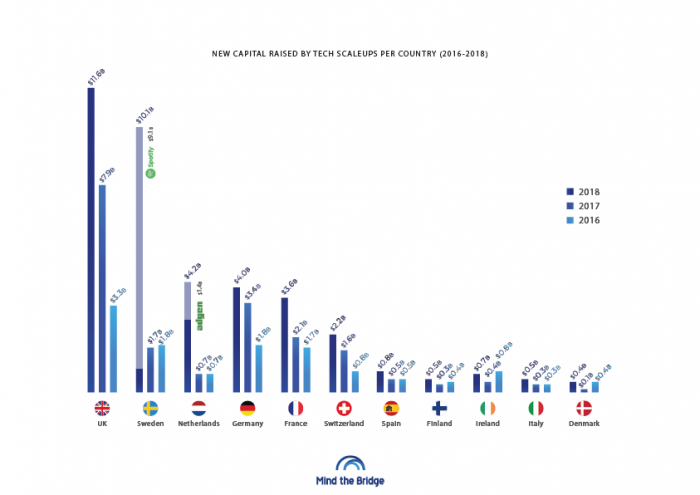 According to the Deputy Head of Innovation Ecosystem, Isidro Laso Ballesteros, "the Spanish startup ecosystem is definitively thriving. More investments and more connection at pan-European level will help Spain to scale-up". As shown Spain, together with all the other Southern European countries, is positioned in the lower left sector which includes those countries that underperform the European average. However, compared to last year, the country increased its density ratio by 0.2 points, from 0.5 to 0.7 scaleups every 100K people. As a consequence, its position moved up, which reflects a consistent, relative increase in the number of scaleups in Spain. Then we can project for Spain a future evolution trajectory towards the center of the Matrix. How much time this process would take would mostly depend on the amount of venture capital poured into the ecosystem.
In addition, the scaleup ecosystem in Spain appears to be of more recent foundation compared to other European countries: 76% of Spanish scaleups were in fact created after 2010 (substantially aligned with the European value of 74%) and 32% between 2014 and 2018. Almost 70% completed a funding round in the 2015-2018 period, 2015 representing a first inflection point in terms of scaleup financing and 2018 showing a further acceleration, that confirms that it might accelerate again in the upcoming years.
"Spain, as well as most of the Southern and Eastern countries, suffers a chronic situation of relative undercapitalization compared to the other European regions. Unfortunately, there is only medicine to treat such disease: pour more capital. Move the investment bar from hundreds of millions to billions", pointed out Arantza Ezpeleta Puras, General Manager of Technology and Innovation at ACCIONA. 
INVESTMENT IN SPAIN
The vast majority of the capital raised in Spain (3.4 billions of dollar, 84% of total) comes from Venture Capital funds and Angels. 0.5 billions of dollar (14% of total) was raised on the stock markets, though no tech IPOs have been recorded in 2018. 64M of dollar (less than 2%) were on the other hand raised by Spanish scaleups through ICOs, all in 2018.
Focusing on tech scaleups, Mind the Bridge research shows that 32% (1.1 billions of dollar) of all VC investments poured into Spanish scaleups comes from domestic investors (4% higher than the European average). 17% comes from other European investors (7% of which from UK, equal to $0.2B), 60% comes outside Europe (32% from US, 10% from Japan and 9% from the Rest of the world). Spain hosts a total of 33 (10.4% of the total) dual companies – scaleups that, shortly after inception, move their HQs abroad, while keeping relevant operations in their country of origin  – that cumulatively secured over $0.8B (20% of the total capital raised). They raised more than double the capital raised by scaleups that pursued a local funding strategy ($24.6M on average versus $11.2M). 23 out of 33 choose the US as their destination – 14 of them (61%) opted for Silicon Valley, with a preference for San Francisco (6) – while 3 went to London.
The Spanish scaleup ecosystem is mostly made up of small scaleups. 82% have raised between $1M and $10M, though they have secured only 20% of the total capital made available to Spanish scaleups. 16% raised between $10M and $100M (the so called "The "middle class" segment) and raised 35% of the total amount of capital. Only 2% are "Scalers", i.e. they have been able to raise over $100M, eating about half (45%) of the total capital.
If we look at the industries, the Spanish scaleup scene appears to be dominated by more "traditional" tech industries: 14% (45 in total) provide E-Commerce services and products, Fintech follows with 10% (32) and, consistently with the centrality of the tourism industry in Spain and the presence of incumbents such as Amadeus, Traveltech ranks 3rd with 8% (25).
In Spain the "Network Effect" contributes to Scaleup Concentration: the larger hotspot is Barcelona (155 scaleups, 49% of total) and 2.4 billions of dollar in capital raised (59% of total); Madrid follows with 110 (35% able to raise 34% of capital available); Valencia ranks 3rd with 15 (0.1 billions of dollar) followed by Bilbao (5 scaleups) and the Seville+Malaga area (5).