Zeleros is a Spanish company that's developing Hyperloop, already considered the fifth form of transport. Its focus on the optimisation of the vehicle allows for a reduction of infrastructure costs and safer operating pressures for passengers.
The company already has private and public support and is currently preparing the construction of its own 2-kilometre test track in Valencia to complete the high-speed demonstration. The main objective is to design and develop new Hyperloop technologies to build more sustainable and efficient transport, making it possible in the future to travel at speeds of 1000km/h with clean energies and combining the best of the aerospace and rail industries using a system of depressurized tubes.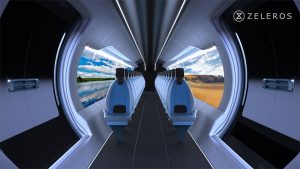 The startup is currently collaborating with leading companies like Altran and research centres like the Universitat Politècnica de València (UPM) and is backed by investors from Silicon Valley Plug and Play Tech Center; Climate-KIC, Europe's principal climate action initiative; and Angels, the investment fund of entrepreneur Juan Roig. It has also joined the Trenlab acceleration programme, the accelerator run by Renfe and Wayra, after a call that saw submissions from over 240 registered companies.
Zeleros operates in Spain, but also works for an international standard for Hyperloop to guarantee the interoperability of the system all over the world. It has closed two rounds of investment for more than €1.5m.