Wegow, the Spanish platform to find out about and discover concerts, socialise with other music lovers and buy tickets had a turnover of 25.4 million euros last year, representing a 135% year-on-year increase. Over 28.3 million unique users used the marketplace in 2019, a year in which information was disseminated on more than 265,000 events, both in Spain and round the world. In the last quarter of 2019, Wegow achieved operating breakeven. It estimates that 2020 will close with a positive EBITDA, owing to the growth of its different lines of business and internationalisation.
With respect to its lines of business, ticketing keeps on growing, both in Spain and all the other countries in which the platform operates. In 2019, over one million concert and festival tickets were sold via Wegow, 116% more than in 2018. The other lines of business represented 35% of the company's net revenue, in which advertising led the way. International brands like Schweppes, Domino's Pizza and Aristocrazy picked Wegow as a strategic partner to immerse themselves in live music.
'We are extremely satisfied with the 2019 results, which prove that we have a well- established and consolidated business in Spain. We have also been extremely well-received in Mexico and other Latin American countries. Based on this, we will continue to commit to Wegow's internationalisation. However, beyond the good numbers, we believe it is very important to keep offering a live music platform that is complete, fast and secure, both for users and all other industry stakeholders. We will never stop seeking new formulas to achieve top-of-mind among live music fans,' commented José María Ozamiz Salazar, company CEO and cofounder. 
USERS
Over 28.3 million unique visitors throughout the world used this benchmark platform for live music lovers in 2019, representing a year-on-year growth of 183%. The number of visits increased by a similar percentage, soaring to 38 million visits last year. Wegow, which operates in 18 countries besides Spain, logged an increase in users outside Spain of 258%, more than 18 million unique visitors in 2019, compared to 5 million the previous year. Visits also rose exponentially, from 5.7 million in 2018 to over 21 million visits last year.
Wegow currently has over 2 million registered users globally. From year-end 2018 to December 2019, there was an extremely positive organic evolution in the number of visits. A few noteworthy numbers are growth rates in the United States, over 670%; Portugal, over 560%; and the United Kingdom, over 440%.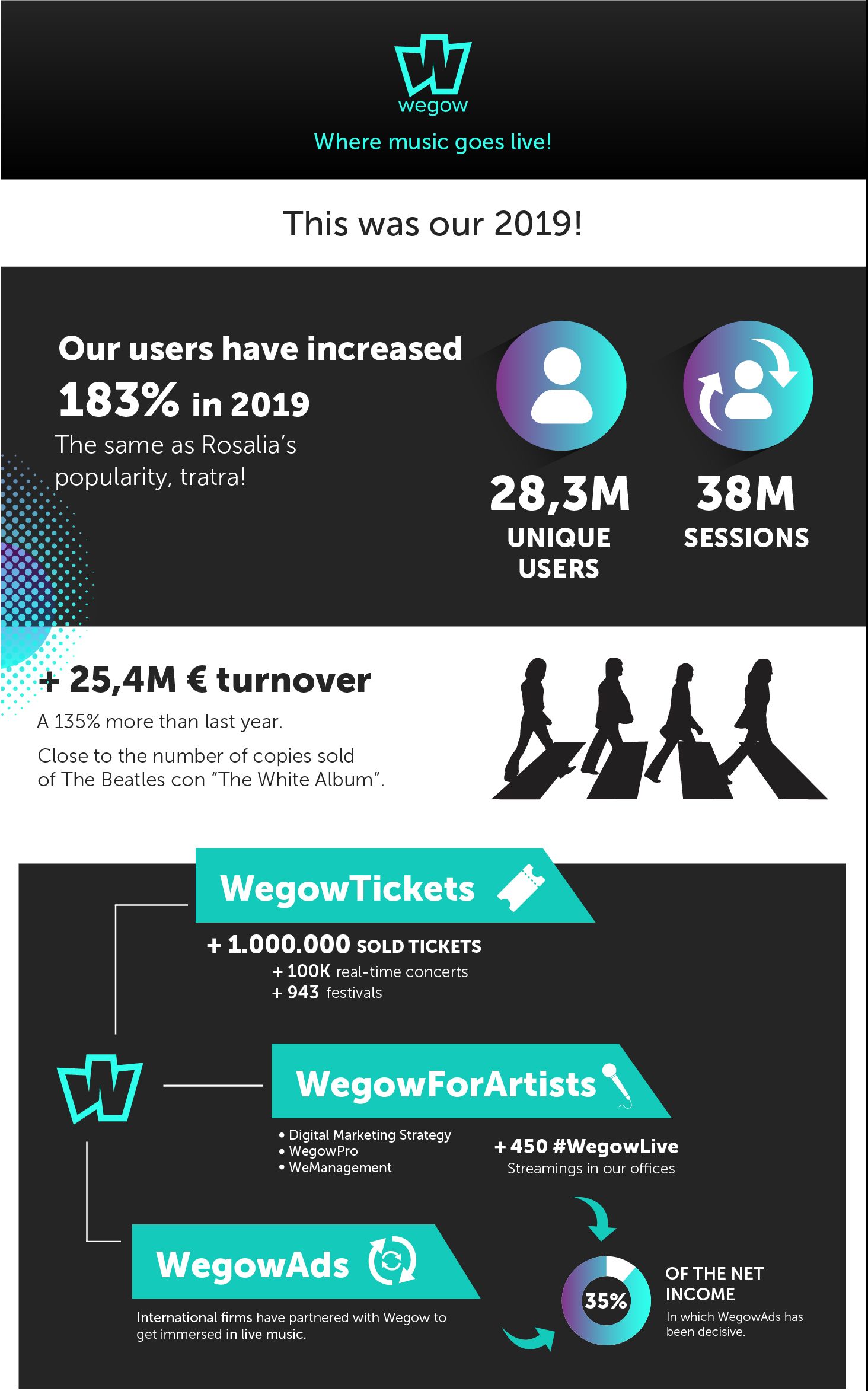 INTERNATIONALISATION
In 2019, international expansion was one of the company's main priorities. To this end, Wegow opened offices in Mexico City in September, which provide support to all of Latin America. The kickoff in these countries has been extraordinary, with positive figures both financially, a positive EBITDA, and with regard to users, visits and downloads, showing the platform growing popularity in the region.
This has led to Wegow continuing to generate jobs, both in Spain and abroad. Staff numbers had a year-on-year increase of 40% in 2019 and, today, there are 50 plus professionals working with us, who specialise in technology, marketing and advertising in the music industry.  The outcome of this astounding growth was the opening of new headquarters in Madrid, on Calle Claudio Coello 16, fine-tuned to all the team's and business's needs.
EVENTS
Over 2300 promoters currently use and trust the marketplace. At Wegow, promoters and artists can upload their own events and access insights on their businesses in real time, as well as receiving personalised service and strategic recommendations from the team to stimulate and promote their businesses. They even have the option to target a segmented audience to give greater visibility to their concerts via WegowPro.
The platform published over 265,000 events in 2019, both in Spain and internationally. With regard to artists, Wegow brings together more than 160,000 profiles. This reveals the huge variety of music genres on the platform, from pop and rock, to flamenco and folk, and many others, like trap, K-pop or dancehall. The company makes different digital marketing tools available to artists, which are grouped in WegowForArtists, to help them improve their positioning and reach their target audiences more effectively.
FACTS AND NUMBERS
Wegow was started up as a social media platform and it is exactly this social nature that is at the beating heart of the platform. And users once again this year have proved that this feature is one of their favourites, as their participation on Wegow chats, private, group and by events, has jumped by 138%, for a total of 632,000 interactions. Indeed, an internal company study shows that the people who interact with other platform users have a purchase rate up to two times higher.
Moreover, in addition to visits to the website www.wegow.com, users are showing a progressively greater interest in the app year after year, letting them have a universe of live music in their hands. In 2019, there were 148,500 organic downloads to iOS and Android.
THE FUTURE 
After these results, and in line with the rising trends in all areas of the company, Wegow forecasts an excellent 2020. The global turnover is expected to increase by 50%, to reach breakeven point. The company will carry on with its international expansion, entering new Latin American countries and offering users there the very best live music platform.